IMIȘOARA: The Mediaș European Film Festival (MECEFF) relocates to Timișoara and runs in competition 13 films from CEE from 3 to 9 September 2017.
The films come from Austria, Poland, Czech Republic, Slovakia, Hungary, Romania, Croatia, Bosnia and Herzegovina, Serbia, Montenegro, Macedonia, Bulgaria, Greece and Albania. An international jury will choose the winners. The programme also includes concerts, exhibitions and workshops.
After the death of its initiator, Romanian director and producer Radu Gabrea, the festival is now headed by Victoria Cociaș.
The Timișoara Central European Film Festival (CEFFTm) is organised by the Euro Fest Association with the support of the Timișoara City Hall, the House of Culture Timișoara, the Ministry of Culture and National Identity, the Romanian Cultural Institute, Timiș Council County and the Romanian Filmmakers Union (UCIN).
LINEUP:
Spoor / Pokot (Poland, Germany, Slovakia, Czech Republic)
Directed by Agnieszka Holland
Produced by TOR Film Production, coproduced by Heimatfilm GmbH, Chimney Group, Nutprodukce , nutprodukcia
Supported by the Polish Film Institute, the Czech State Cinematography Fund, Eurimages, the Slovak Audiovisual Fund, the Swedish Film Institute, MEDIA Programme and Polish-German Co-Development Fund
The Constitution / Ustav Republike Hrvatske (Croatia, Czech Republic, Macedonia, UK)
Directed by Rajko Grlić
Produced by Interfilm
Coproduced by In-Film, Sever&Sever, the Croatian Radio Television HRT and NP7, Revolution Production and Film and Music Entertainment
Supported by the Croatian Audiovisual Centre, the Croatian Radio Television, the Czech Film Foundation, Macedonian Film Agency, the Slovenian Film Centre, Eurimages and MEDIA Programme
Sieranevada (Romania, Bosnia and Herzegovina, Croatia, Macedonia, France)
Directed by Cristi Puiu
Produced by Mandragora
Coproduced by Studioul de Creaţie Cinematografică Romania, 2006 d.o.o., Spiritus Movens, Sisters and Brother Mitevski Production, Alcatraz Films
Supported by the Romanian Film Centre, Fondacija za Kinematografiju Sarajevo, the Macedonian Film Agency, Eurimages, Region Ile de France
The Golden Five (Macedonia)
Directed by Goran Trenchovski
Produced by Revolution Production
Coproduced by the Macedonian National Television
Supported by the Macedonian Film Agency
I, Olga Hepnarova / Já, Olga Hepnarová (Czech Republic, Poland, Slovakia, France)
Directed by Tomáš Weinreb, Petr Kazda
Produced by Black Balance
Coproduced by by Media Brigade, Alef Film and Media Group, Love.FRAME, Ace Prague,  Barrandov Studios,  Michael Samuelson Lighting Prague,  FAMU, Arizona Films (France)
Supported by the Czech State Cinematography Fund, the Polish Film Institute, the Slovak Audiovisual Fund, Odra Film
A Good Wife / Dobre žena (Serbia, Bosnia, Croatia)
Directed by Mirjana Karanovic
Produced by This&That Productions
Coproduced by Deblokada, Nukleus Film, Cineplanet
Supported by Film Fund Sarajevo
Smac (Greece)
Directed by Elias Demetriou
1945 (Hungary)
Directed by Ferenc Török
Enclave / Enklava (Serbia)
Directed by Goran Radovanovic
Produced by Sein+Hain Film
Coproduced by Nama Film, ZDF, in cooperation with Arte
Supported by the Film Center Serbia, City of Belgrade, the Global Film Initiative, MFG, Filmforderung Baden-Wurttemberg, Eurimages, Council of Europe, MDM, Art & Popcorn, MegaCom Film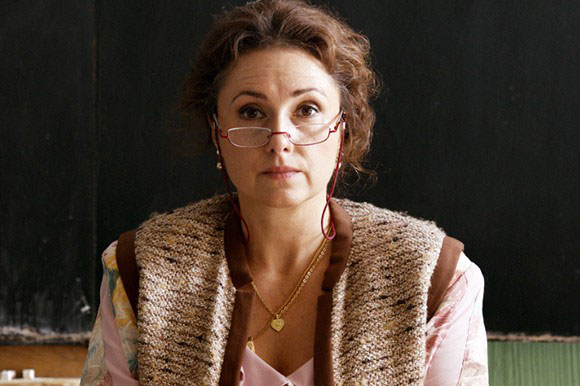 The Teacher / Učitelka (Slovakia, Czech Republic)
Directed by Jan Hřebejk
Produced by PubRes,RTVS
Coproduced by OffSide Men, Czech Television
Supported by the Czech State Cinematography Fund, the Slovak Audiovisual Fund
Life Is a Trumpet / Život je truba (Croatia, Serbia, Montenegro, Slovenia)
Directed by Antonio Nuić
Produced by Propeler Film
Coproduced by Baš Čelik, Artikulacija production, Staragara, Croatian Radiotelevision
Supported by the Croatian Audiovisual Centre, Croatian Radiotelevision, Zagreb Film Festival, MEDIA Programme for development, the Slovenian Film Centre
Godless (Bulgaria, Denmark, France)
Directed by Ralitza Petrova
Produced by Klas Film
Coproduced by Snow Globe, Alcatraz Films, Film Factory production
Supported by the Bulgarian National Film Center, Danish Film Institute, Eurimages
Thank You for Bombing! (Austria)
Directed by Barbara Eder
Source: Film New Europe