MUBI announced today its December release slate of films and curated series from both emerging talent and acclaimed directors from across the globe. Next month, MUBI gets up close and personal with celebrated international directors Jia Zhang-ke, Béla Tarr and Hou Hsiao-Hsien, pairing their films with documentaries about the filmmakers themselves as part of MUBI's Behind the Viewfinder series.
The introspection continues with a spotlight on emerging Colombian-Canadian filmmaker Lina Rodríguez, whose commitment to intimacy sees her cast her own mother in leading roles in both of her feature films. And a winter warmer comes in the form of Reminiscences of a Journey to Lithuania, which sees godfather of avant-garde Jonas Mekas return to Lithuania with his brother in a poignant tale of family perfect for a cozy Christmas Eve.
Additional highlights in December include a birthday tribute to Carol Reed, with two of his finest works – including his career-defining masterpiece The Third Man – and a look at the remarkable career of legendary ethnographer Jean Rouch.
Highlights from the December line-up are as follows:
Behind the Viewfinder
A unique series featuring films from three renowned international directors, each one paired with a documentary examining the life and work of the filmmakers themselves. This thoughtful curation provides deeper insight into the remarkable art of Jia Zhang-ke, Béla Tarr and Hou Hsiao-Hsien. Hailing from China, Hungary, and Taiwan respectively, these visionary artists stand among the most influential figures in contemporary world cinema.
A Touch of Sin — December 9
Jia Zhang-ke, a Guy from Fenyang — December 10
The Turin Horse — December 15
Tarr Béla, I Used to Be a Filmmaker — December 16
Three Times — December 28
Flowers of Taipei: Taiwan New Cinema — December 29
Rites of Passage: Spotlight on Lina Rodríguez — Exclusive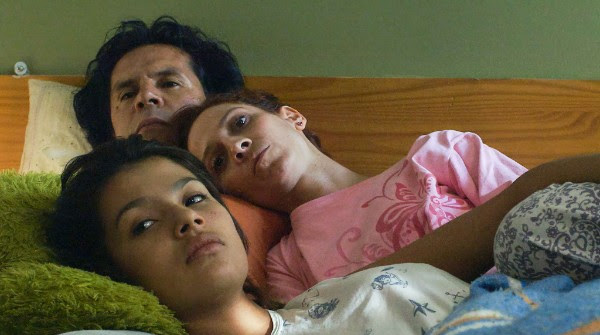 A double bill of the work of emerging Colombian-Canadian filmmaker Lina Rodríguez, featuring her debut Señoritas and This Time Tomorrow, fresh from its theatrical bow this past summer. A deeply personal filmmaker, Rodríguez shot both of these lovely, intimate films in her hometown of Bogotá – in both cases, casting her own mother in a leading role. With an assured, naturalist style, Rodríguez cites Jean-Luc Godard, Chantal Akerman and Lucrecia Martel among her biggest influences.
Señoritas — December 4
This Time Tomorrow — December 5
Happy Birthday, Carol Reed

MUBI celebrates the birthday of the great British auteur Carol Reed (December 30), whose prolific filmmaking career spanned nearly four decades. This double fill features two of his finest works including The Third Man – unquestionably Reed's career-defining masterpiece and arguably the greatest British film ever made.
The Third Man — December 30
The Man Between — December 31
The Groundbreaking Ethnography of Jean Rouch
A fitting tribute to cinema's leading ethnographer – the pioneer of cinéma vérité who influenced the likes of Werner Herzog and the French New Wave. Over the course of 60 years, Rouch immersed himself within local communities across Africa, creating films in close collaboration with his subjects. His unique, playful form of cinema dissolved all notions of fiction and non-fiction into one frame to communicate various landscapes, peoples and traditions to the rest of the world. MUBI is thrilled to present this series of eight films, all newly restored and digitized in 2K.
The Mad Masters — December 18 The Lion Hunters — January 3
Mammy Water — December 19 Jaguar — January 7
Moi, un noir — December 26 Little By Little — January 10
The Human Pyramid — December 27
Jean Rouch, The Adventurous Filmmaker — January 2
Singles!

From emerging Japanese auteur Ryusuke Hamaguchi, whose latest film Asako I & II is currently making its way through the festival circuit, Happy Hour (Best Actress winner, Locarno Festival), is an immersive and heartfelt portrait chronicling the emotional journey of four young women in the misty seaside city of Kobe, Japan. Powerful and precisely observed, Hamaguchi brings an undeniably poetic style to this emotionally-charged character study.
Happy Hour — December 14
A moving portrait of war and humanity from Lithuanian auteur Sharunas Bartas, Frostcaptures the story of a young man who embarks on a humanitarian aid mission to the Ukraine. Naive to the realities of war, he enters a journey of sacrifice and self-discovery, crossing borders between countries – and ultimately between people. Starring Vanessa Paradis, the film premiered at Cannes' Directors' Fortnight 2017, and will have its exclusive global streaming premiere on MUBI.
Frost — December 20 — Exclusive
MUBI shifts from a modern Lithuanian perspective to an established one, with a tribute to the legendary filmmaker, poet and artist Jonas Mekas in celebration of his birthday on December 24 (he'll be turning 95!) Reminiscences of a Journey to Lithuania, the story of the two Mekas brothers' return to their homeland, is not only a perfect film for Christmas Eve, it's also one of the finest examples of intimacy ever put on celluloid.

Reminiscences of a Journey to Lithuania — December 24